Book onto Events
With all the repeating weekly events it can sometimes be hard to find the club event you want to book onto. Now previous advice has been to use the search facility to find the event you want. Great as the search functionality is; I wondered if I could make it a bit easier for you and I to book.
I've just made it easier to find a club event and book onto it. There is now a new menu item under Events called "Book onto Events" !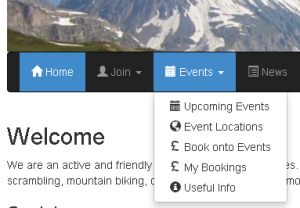 This will take you to a page that only shows you events that you can book onto. Note it does not show all events, you will still need to go to upcoming events to see those.
Hope this helps make things easier and quicker for all.
Phil
HMC Group Membership for High Sports (-St.Albans Climbing Wall)
Hi Everyone.
Just to let you know that the HMC now has a group membership for High Sports. They kindly have given the club this years membership free!
This means anyone who shows their valid HMC card at any High Sports or Climb London will get the group discount rate (the price varies at different locations).
For St.Albans Climbing wall at Westminster Lodge, for the month of July 2014 as an extra introductory offer the entry to climb on a Thursday evening will be only £5.50 for HMC member, but after at other times and after July our entry rate will be £6.10.
As we now have a group membership you do not need to join yourself, or renew your personal membership as long as you keep your HMC membership up to date.
If you haven't climbed at this wall before you will need to do a safety test, but this can be done on arrival with no prior booking, and is free.
For Info on HighSports/Climb London check the link: www.high-sports.co.uk
Happy Climbing 🙂
Rebecca