The HMC – September 2015 News & Update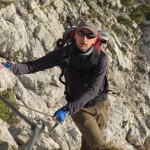 September 1st, 2015 by
Stephen Deaville
Dear HMC Members
In August we have had two good trips; one to the much loved  Robertson Lamb Hut, Great Langdale Valley in the Lake District and one to Pembroke for some fantastic sea cliff climbing. Not sure how much climbing got done with the unsettled weather but hopefully the guys who went got some good routes in.
 We have an exciting trip to Wales planned for 18 September, staying in a lovely mountaineering hut in Snowdonia. See below for details. Later in the year we will be heading to the Peak District to stay in the Roaches Bunk House in October and of course, our most popular bangers and mash event in November. Also in November we will be holding our usual slide show in Cotswold to show off our adventures over the past 12 months.
In mid December, we have located a lovely little hostel in Moretonhampstead, in the foothills of Dartmoor National Park to have a pre Christmas celebration and raise a glass or two to a successful 2015. We have 14 beds booked for the Sparrowhawk Hostel and for those quick to get in, there is a family room available too. Details below.
Trips for 2016 are starting to be put on the Events Calendar which I am sure you have spotted already, you keen bunch! Start planning your year ahead to avoid dissappointment.
Tan Yr Wyddfa Hut – Rhyd Ddu – North Wales – 18 September to 20 September
Tan Yr Wyddfa our mountaineering hut in Snowdonia, is at Rhyd Ddu.  On a clear day you can see the top of Snowdon and you can walk from here all the way to the summit on the well marked Rhyd Ddu path.
The hut is also a superb base for walks onto the Nantlle ridge, Moel Hebog, Mynydd Mawr and Yr Aran.  There is a pub, a café and a Welsh Highland Railway station close by.  The shops, restaurants and pubs of Beddgelert are only five miles away. The hut is well placed for rock climbing in Snowdonia anywhere – being within easy driving distance of Tremadog, the Moelwyns, the Llanberis pass and most other popular mountains crags and paths within central Snowdonia.  Even Gogarth is only an hour's drive away.   When we climb on Cloggy, we walk there!
The hut is fitted with electrical storage heaters, which makes it comfortable.  It has four bedrooms and sleeps 22 people in bunk beds.  One room (with 6 beds) is always reserved exclusively for use by Oread members – leaving up to 16 beds available for hire by other clubs.
 There are three toilets and both men's and women's washrooms with showers.  The kitchen is fully equipped with gas cookers, microwave oven, electrical kettles, hot water boiler and toasters, plus all the necessary cooking utensils, crockery and cutlery.  The dining room is adjacent to the kitchen.  There is also a good-sized utility room with fridges, food storage racks and a drying room for wet clothes.  We have a large lounge with an open fire.  Wood and coal are supplied.  Outside there is a lockable bike shed, wood store and coal bunker.
 We have our own car park adjacent to the hut, which accommodates 10 car park.
Organiser: Paul Hearn
HMC Pub Social – 29 September 2015 – The Three Horseshoes – 8:30pm.
Its our usual monthly gathering on Tuesday 30 June at the Three Horseshoes starting at 8.30pm. As well as being an opportunity to meet up with fellow club members and enthusiasts, the monthly social is usually the first point of contact for potential new members to come and talk to members to find out more information. The socials are there to provide members the opportunity to discuss and plan upcoming events as well as have a good catch up with other members over a pint.
 The Three Horsehoes on the Hatfield – St Albans Road.
Peak District – Roaches Bunk House – 9 October to 11 October
The Bunkhouse – Hostel is located at the foot of the famous Roaches, a formation of rocks stretching for approximatly 3 miles with magnificent views over Tittesworth reservoir. It is an ideal base for climbers, walkers and cyclists and from this base, there are endless walks, climbing and cycling routes in all directions. Leek is the closest town for shopping (3 miles approx).
The rooms are simple and for sleeping only, with a communal area, tables and chairs, log fire, TV, board games, vending machines. Kitchen facilities including fridge, cooker, microwave, kettle, cutlery, crockery, pots and pans. Coin operated showers are available plus toilets, wash basins and a drying room. A shelter for smokers is located outside. The Bunkhouse provides mattresses and pillows but you will need to bring your own sleeping bag, however sleeping bags are available for sale.
Rooms contain 2, 4 or 6 beds. Parking is provided on site. We have no facilities for pets at the moment and simple site rules apply.
Organiser: Kat Judah
The HMC Bangers & Mash Meet – 6 November to 8 November – Hertfordshire Snowdonia Hut
The HMC's most popular event is back for 2015;  another night of delicious fun with those ever favourite combinations of big bursting bombastic bangers and marvellous mashy goodness all wrapped up in the Herts Snowdonia Hut, cooked and served by the fair hands of the club's committee (and any other willing volunteers). Book your place early to avoid dissappointment.
Organiser: Paul Hearn
The HMC Slideshow – St Albans Cotswold – 17 November from 6:30pm – 9pm
An opportunity to show off your magnificent images taken over the year and talk about your experiences with other members.
HMC Christmas Meet – Sparrowhawk Hostel, Dartmoor – 11 December to 13 December
The HMC Christmas event will be at the Sparrowhawk Independent Hostel in Moretonhampstead which is located in the Dartmoor national park.
Sparrowhawk Backpackers is a charming small friendly, relaxed, eco hostel, located in hillside village of Moretonhampstead, in the atmospheric Dartmoor National Park, south-west.
Visitors are accommodated in a beautifully converted stone stable, typical of the area, the dorm being originally a hay loft. The kitchen is fully equipped including tea/coffee and opens onto a courtyard where you are welcome to have a bar-b-q and fire. Books, maps and advice on the best hiking, cycle routes, archaeological sites and wild swims available at the hostel.
The local Tourist Info. Centre is just 2 mins walk
http://www.sparrowhawkbackpackers.co.uk/index.ghtml.
Organiser: Steve Deaville
HMC Early Events in 2016
 – High House Bunkhouse, Seathwaite, Lake District – 8 January to 10 January 2016
High House is situated at the head of the popular valley of Borrowdale in the English Lake District, OS Grid Reference NY235119 – see map. It offers a high standard of bunkhouse/hostel self catering accommodation, and is considered to be the best in the Lakes. It is a converted stone built 16/17C farmhouse in its own grounds, with car access and parking. http://www.highhouse.talktalk.net/ff.htm
 – Cwn Dyli Hut, Snowdonia, Wales – 19 February to 21 February
The Cwm Dyli  (also known as the Emily Kelly Hut) is in Nant Gwynant below Snowdon (GR SH 653541). It was just a shell when the Pinacle Club first got it in 1932. It now has electricity for cooking and lighting, a fully equipped kitchen, hot shower and alpine bunks for 22 people. There is also a coal stove plus storage heaters for winter warmth. Coal is available but you will need to bring your own kindling. Rubbish is collected at the nearby farm and parking is available approximately 150 metres from the hut. Plenty of walking, scrambling and climbing in the area.
Other Local Events of Interest:
Porters Progress UK presents The Telluride Mountain Film 
Harking from the tiny mountain village of Telluride in Colorado, this is a film festival that breaks down barriers, catapults unknown talent into the limelight and gives every viewer a sense of discovery. Telluride audiences were the first to enjoy the likes of Juno, Brokeback Mountain and The Lives of Others. This is a festival like no other. This will be a unique opportunity to witness the wonders of Telluride first hand. Join us at the Royal Geographical Society, London – a venue steeped in its own history of discovery – for this jaw dropping evening. Beautiful, creative cinematography aside, you'll also be contributing to changing the lives of people rocked by Nepal's recent earthquakes.Join us on Wednesday, 16th September 2015 (7pm – 10pm), Royal Geographical Society, London SW7 2AR (nearest tube: South Kensington).  Exhibition Road doors open at 6.00pm.
Tickets: £15 www.portersprogressuk.org/events
Stephen Venables Lecture – Life after Everest
After climbing a new route up the world's highest mountain, reaching the summit alone without oxygen and surviving a record bivouac at 28,000 feet, you might think that Stephen Venables would have decided to hang up his boots.  Far from it.  Record-breaking success on Everest was just the preparation for many more adventures around the world. In this new show, illustrated with stunning photos and film clips, Stephen recounts his narrow escape from death in the Indian Himalaya, first ascents in Nepal, rockclimbing from the Arctic to the Namib desert, and his most recent sailing expeditions to the coastal mountains of Tierra del Fuego, South Georgia and Antarctica. Climbing with such legendary figures as Chris Bonington, Reinhold Messner and John Roskelley, and following in the steps of explorers like Ernest Shackleton, Stephen continues to embrace a life of adventure amongst some of the most remote, beautiful landscapes on earth. November 3 @ 7:00 pm – 9:00 pm Royal Geographical Society, 1 Kensington Gore London, SW7 2AR United Kingdom, Tickets: £15 www.portersprogressuk.org/events
Last comments……
I am sure you have probably noticed that the nights are starting to draw in and we'll start feeling the drop in temperature soon on the hills. At this time of year its good to start to dust off that down jacket and start putting extra layers in your day bags. Time to ensure your boots are clean and waterproofed for the wet season ahead and with less daylight on the hills, make sure you plan your excusions accordingly and have a good torch and a supply of spare batteries, just in case. Stay safe!
Steve Deaville
HMC Secretary